About The Owners
We are proud to announce the opening of Sweet Magnolia Lake Norman!  After long careers in the automotive business, Tracy and Sissy have taken on a new challenge.  They are excited to extend a special invitation to all their friends and family to come see what they have been up to for the last few months.
Sweet Magnolia's is a "lifestyle" store featuring furniture, gifts, clothing, and original art in a boutique setting. Customers can choose from upscale clothing, shoes and accessories from many high end designers; chic, stylish jewelry and scarves; as well as, eclectic furniture and art by local artists. Customers will experience southern charm with a trendy twist.
Tracy and Sissy would like to express a special thanks to their aunt, Vicki Clark and cousin, Dale Parks for their advice and encouragement to make this new store unique.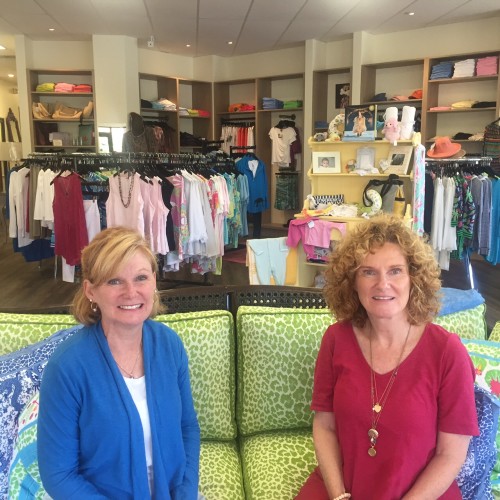 Brands We Carry At Sweet Magnolia Lake Norman…
Women's Apparel
Tyler Boe
June Connally
Jules
Before & Again
Luukaa
Whimsy Rose
Johnny Was
Sailor Sailor
Oh My Gauze
Cino
Marushka
Barbara Gerwitt
Yoga jeans
NYDJ
Tolani
Tinia Turk Athletic Wear
Hard Tail
Fresh Produce
Alembika
Grazis
Nic & Zoe
Comfy
Krazy Larry
Havaianas
Tkees
Sun Kim
NC Home Tees
Cut Loose
Boody Organic
Bags
Holly Aiken
Scout
Dash and Albert
Mar Y Sol
PJ'S
Cat's Pajamas
Yala
Bamboo Loungewear
Swim Suits
Trina Turk
LaBlanca
Nannette Lepore
Cabana Life
Glenda Gies
Wedding / Graduation / Birthday / Hostess Gifts
Mudpie
Swells
Frames
Scout
Ella B Neighborhood candles
Cards
Peepers
Embossed Stationary and Invitations
Embossed and Printed Napkins
Personalized Glasses, Cutting Boards, Frames Books
Local Cookbooks
Farmhouse Fresh
Lilly Pulitzer
Karen Adams Stationary
Spartina
Skinny & Co
Coola
Slant
Quoteables
Across Africa
Swigs
Home
Dash and Albert
Surya
Vintage Vinyl
Gurgle Pots
Robert Abby Lamps
Baby
Kissy Kissy
Swaddle Designs
Piggy Story
Wubba Nub
Waddle Socks
Artwork
Robin Cooper
Mark Durham
Various Southern Artists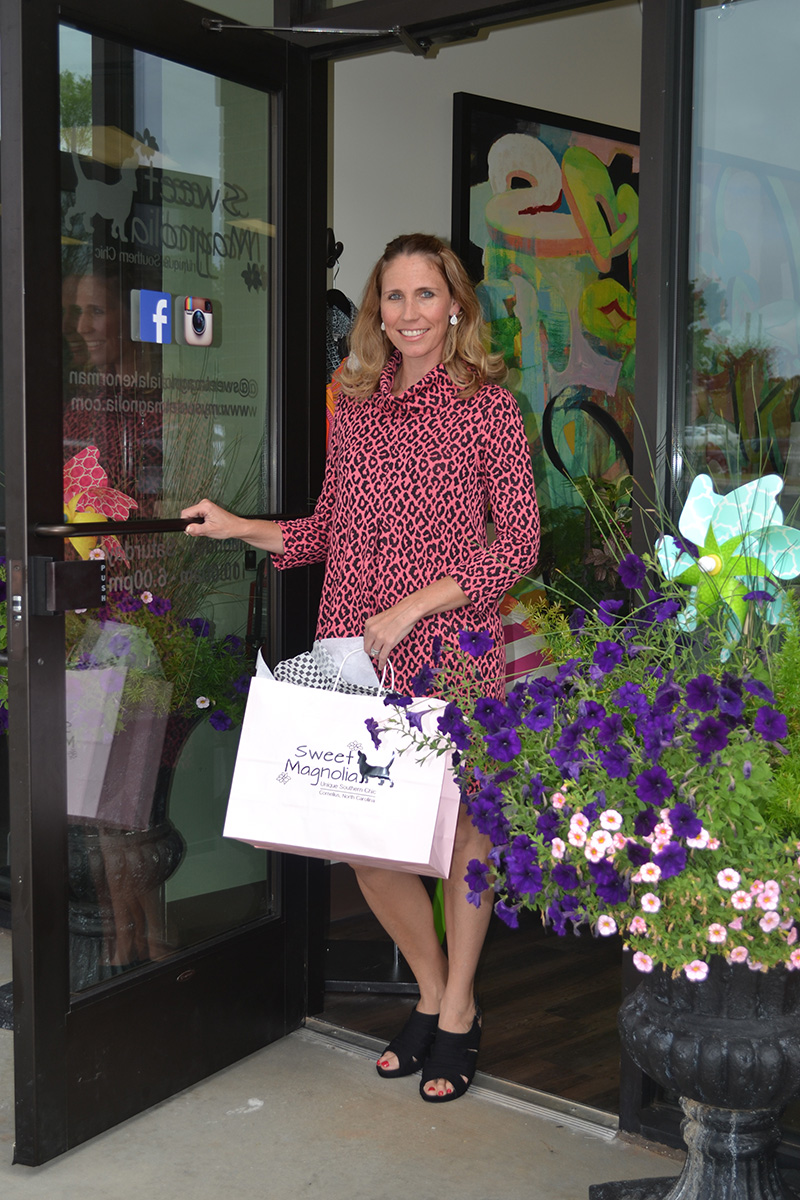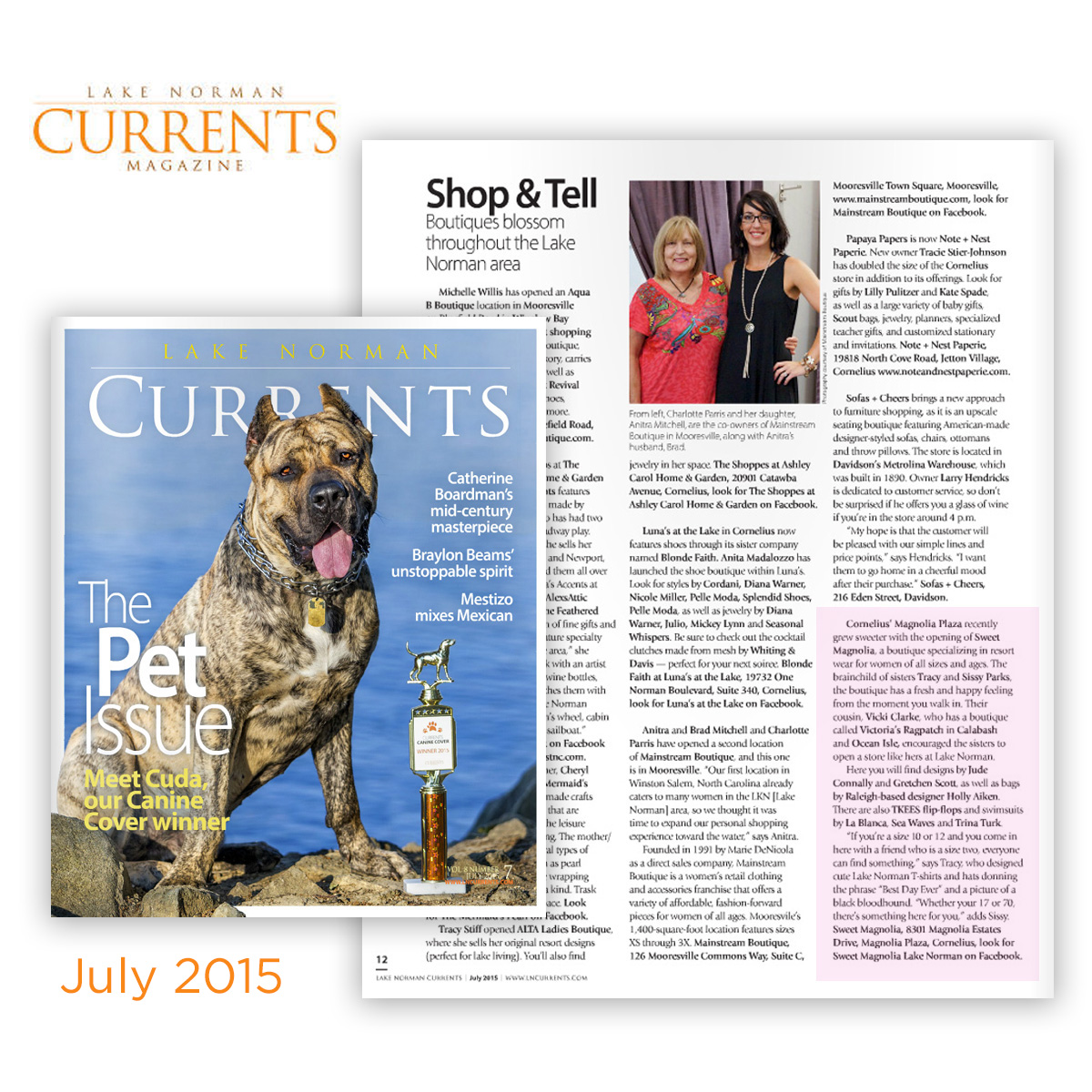 Sweet Magnolia Lake Norman
Magnolia Plaza
8301 Magnolia Estates Dr
Cornelius, NC 28031
704-896-6008
click here for directions